"Is not this a true autumn day? Just the still melancholy that I love - that makes life and nature harmonise. The birds are consulting about their migrations, the trees are putting on the hectic or the pallid hues of decay, and begin to strew the ground, that one's very footsteps may not disturb the repose of earth and air, while they give us a scent that is a perfect anodyne to the restless spirit. Delicious autumn! My very soul is wedded to it, and if I were a bird I would fly about the earth seeking the successive autumns."
-George Eliot

​

How perfect is this quote from George Eliot about autumn? I always find myself so reflective during the month of October. It doesn't matter how many Octobers I've been through, I can't help but marvel at the changes that take place in the world around me. The cooling air, the smell of dying leaves, and the sound of acorns falling on pavement never cease to excite me year after year. Sometimes I just need to pause and take a minute to enjoy it all.

Powered by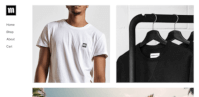 Create your own unique website with customizable templates.