An undeniable reality of being a writer is dealing with rejection. Sometimes, it feels like a cruel joke that completing a piece can give you such a high while letting another read it can beat you to the ground. Sadly, rejection is a very integral part of the writing life (as is being a sensitive person - yet another cruel joke). But, if you want to keep writing and eventually succeed at it, it is important to not get bogged down by all of those rejection letters and emails. Here are just a few ways I "keep on keeping on" in the face of rejection, even as a very sensitive person, and maybe they can work for you, too.

1. Do at least one (non-writing) thing each week that you can be proud of.
That's right. Put the pen/keyboard down for a minute and think of something else you can accomplish. When the rejection letters pile up, it is so easy for that negative self-talk to weasel itself into your brain. I'm worthless. I'll never make it. I should just quit. You know you've had those thoughts. To get out of the funk that rejection causes, it's important to intentionally do things that can boost your self-esteem and make you feel good about YOU again. For me, some weeks, my big accomplishment may be something very small like catching up with the laundry or organizing a closet. The activity doesn't matter, what matters is that it is something that gives you a sense of pride and it is something that you can do without the approval of others. This week, I took the time to make a birthday cake for my husband, and I'm still smiling about how it turned out. If you can do something that makes you happy and makes someone else happy, well, that's just a bonus!



2. Have writer/artist friends or join a writing group.
I'm blessed to live with another artistic person so we can vent our frustrations to each other whenever we need to. My husband is a chef and chefs may even deal with more rejection than writers do. Think about it, everyone with taste buds thinks they are qualified to be a food critic. Anyway, it is very important to have these relationships in your life so that you can avoid feeling completely alone in your sorrow. If you don't already have other artist or writer friends, joining a writing group can be just as helpful. Not only does it get you in touch with like-minded people, it gets you out of the house, which brings me to my next strategy....

3. Step away from the computer!
When you start to feel yourself getting bogged down by rejection, use that feeling as an opportunity to take a much-needed break. Go outside, talk to people, breathe in the fresh air, do something that clears your mind. Sometimes the best ideas for your next article/poem/short story/novel will come to you when you're not thinking about writing at all.

4. Learn from constructive criticism.
Unfortunately, not everyone who sends us a rejection letter is going to take the time to give us feedback. Every once in a while, however, you may get lucky enough to hear the reason why your work wasn't chosen. When someone offers you constructive criticism, take it, think about it, and learn from it. In an earlier blog post, I wrote about how grateful I was when someone corrected my use of the word "leftover". It wasn't fun to hear about my own mistake, but you better believe I'll never misuse that word again!

5. Look to the greats.


While many of our favorite authors and artists may seem perfect to us, the truth is they were often recipients of rejection letters, too. The famous rejection stories of writers and artists like J.K. Rowling and Walt Disney are told so often that they have almost become a cliche. Even so, they teach us the lesson that all writers/artists must deal with rejection no matter how great they end up becoming. Listening to The Beatles Anthology discs is one of my favorite ways to lift my spirits after a rejection. On these discs, you hear about how The Beatles were turned down by Decca Records. You also hear recordings of "One After 909" and "Eight Days a Week" with false starts which is a refreshing glimpse of the incredibly hard work that goes into creating art as well as the reality that we rarely get things right the first time.

When you're a writer or an editor, you sort of involuntarily join the grammar police force. Everywhere you go, you have the ability spot grammatical errors whether you want to or not. It's a blessing and a curse.

It is a blessing to be able to correct mistakes for others and to protect the public from gross misspellings and cringe-worthy grammar no-nos. However, it is, in a way, a curse to have to see these errors glaring at you wherever you go. The most painful one is probably the quotation-marks-used-for-emphasis mishap. If you've seen this sign in a restaurant bathroom and wanted to leave the establishment immediately, congratulations! You're one of us!

EMPLOYEES MUST "WASH HANDS" BEFORE RETURNING TO WORK

Yikes.

One such misuse of the English language unexpectedly found me in a residential restroom but, thankfully, it was without the germ-ridden implications. Actually, it was a motivational wall decal that was purchased from an actual store. Yes, fellow officers, these are being sold for money:

While the intentions of this decal are good, the misuse of the word "everyday" saps the decal of its inspirational meaning. The word "everyday" is an adjective meaning common or ordinary as in, "I wouldn't wear my everyday shoes to a wedding." Since you can't wrap up an adjective and give it away at Christmastime, no,

everyday

is NOT a gift. Every

day,

however, is certainly a gift! That's why it's called the present, right?

Ugh.

The duties of the cliché police will be discussed in another post.

In closing, I would like to say that I applaud you, fellow officers, for your attention to detail and confidence in bringing these errors to light. It's a shame that we don't get to wear official badges. Throughout my life, I have been appreciative of the grammar police pointing out my errors and teaching me a lesson or two. I'll never forget the time I wrote a poem with the phrase "leftover emotions" in it and a friendly critic taught me that the word "leftover" means yesterday's dinner.

However, not everyone in this world will be so grateful for our services. As the great Jim Gaffigan once tweeted, "Whenever you correct someone's grammar just remember that nobody likes you."

It's a tough job, but someone has to do it!

---

Grammar Girl is one of my favorite online resources for grammar rules. Read her take on "everyday" vs. "every day"

here

.

Listicles. They're everywhere you look. It seems like every time I read a blog post it is either a listicle in its entirety or it contains a list somewhere in the post. Facebook friends are sharing them left and right and they've even descended upon Medium.

Listicles are attention grabbing, they're quick and easy to read, and they are the "Readers Digest Condensed Version" of anything you'd ever want to know. As a web content writer, the listicle is a great tool to have in my kit. If I'm ever stuck for an idea for a blog post or online article, the listicle is my go-to format. Whatever the subject is, I know I can pop one of those bad boys out in about 20 minutes. When I'm done, I feel pretty efficient and that's a great feeling. I also know that since the general public is addicted to them, my work will be read. And that's why I love them.

The truth is listicles are a dime a dozen, anyone can easily read them just as almost anyone can easily write them. They don't dive too deep into anything so you don't have to even have to know what you're talking about to write them. This is why, as a fiction writer, I hate them.

I hate them because writing them does not take me out of my comfort zone. They don't require any extra creativity or research. They don't push the envelope. They are safe.

While this may be ok for web content writing, a field that values efficiency, it does not foster the right attitude for fiction writing. It's easy to fall into habits with our fiction writing. When we find a "formula" that works, it's very easy to use it over and over again to save time and to guarantee an acceptable outcome. However, the best fiction challenges us, it confuses us and surprises us. In order to be a writer of that kind of fiction, we must dare to be experimental and bend the rules.

The listicle approach to fiction writing may work to a degree, but abandoning it can stretch our creativity in ways we never thought possible. Great fiction has no "one size fits all" formula the way web content tends to, which makes it a challenge to work on both simultaneously. It can be done, however, when we put away our "listicle lens" when working on our fiction in favor of a kaleidoscope.
Powered by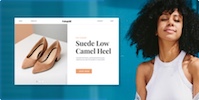 Create your own unique website with customizable templates.